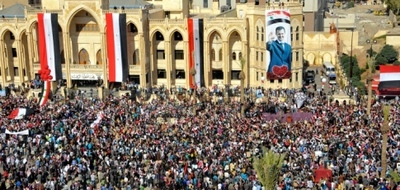 AFP/Getty Images
Since the outbreak of state-sanctioned violence against Syrian protestors in mid-March, the White House has dithered on what to do about the masters of Damascus. Although President Obama called for the Syrian leader, Bashar al-Assad, to "step aside" in August, he has done little in support of that goal. U.S. strategy should aim to weaken those who support the regime within and outside of Syria while encouraging the opposition to demonstrate its goal of a nonsectarian and democratic Damascus.
In the wake of the NATO-led air campaign in Libya, many are wary of another military intervention. Regardless, there are other effective means available to undermine the Assad regime. A good place to start is for the U.S. to target Syria's fragile economy and raise the cost of remaining loyal to Assad among the business classes.
To do so, it is imperative to convince the predominately Sunni Syrian business community, which is currently straddling the fence of reform, to take a definitive stand. The U.S. and its allies must make the case that the longer Assad remains in power, the more economic pain they will feel.
And there is good reason to hope that further crippling Syria's vulnerable economy will shuffle the internal political deck in favor of the opposition. This year, Syria's foreign exports are down by two-thirds while foreign direct investment and tourism have shrunk to half the levels of previous years.
Damascus lacks access to hard currency as it runs down its dollar reserves to pay off its all-too-busy security forces. The prospect of hyperinflation looms large in Syria, especially if its financial umbilical cord to Iran — a staunch ally — can be severed.
Although initially slow to respond, the White House imposed three incremental rounds of sanctions on Syria in April, May and August. The first targeted several high-ranking Syrian officials and Iran's elite Quds Force, which is aiding Assad in cracking down on the democratically minded protesters. The second set of sanctions expanded the list of Syrian officials to include Assad himself, in addition to many high-ranking ministers in his government. The latest round froze all Syrian assets under U.S. jurisdiction and barred American citizens and companies from participation in a broad range of transactions with Syrian entities.
As in the case of Iran, the United States has ostensibly no trade or investment in Syria, since that is presently prohibited. Further action should therefore be geared toward convincing its allies in the European Union and beyond to abandon Syria's economy as well — an effective plan we should be pursuing while continuing to punish Iran for its persistent, and highly dangerous, nuclear intentions.
The EU has taken a step in that direction by recently banning the import of Syrian oil and cutting off any new investment in Syria's energy sector. That ban takes effect on Nov. 15, and will surely put further pressure on Assad. Even Russia, which is generally resistant to pressure from the West, has indicated that it is unhappy with the way Damascus has behaved toward its own citizens. "If the Syrian leadership is incapable of conducting. . . reforms, it will have to go," Russian President Dmitri Medvedev said back in October.
Our own legislators are making sure that even if Syria does have a few friends left (China chief among them), that number will steadily diminish. If the Syrian Sanctions Act of 2011 — introduced by Sens. Kirsten Gillibrand (D-NY), Joe Lieberman (I-Conn.) and Mark Kirk (R-Ill.) — passes, it would penalize foreign entities that aid or contribute to Syria's energy sector, which would, in effect, give those countries a choice between a financial stake in Syria's power industry or access to U.S. financial institutions.
Similarly, the Syria Freedom Support Act — introduced by Reps. Ileana Ros-Lehtinen (R-Fla.) and Eliot Engel (D-NY) — would further strengthen U.S. sanctions on Syria by targeting its financial institutions. It also would broaden sanctions related to Syria's sponsorship of terrorism and development of weapons of mass destruction.
All of these are steps in the right direction: Convincing America's allies and enemies alike that the U.S. is serious about pushing Assad aside is imperative to motivate important pillars of Syrian society to take a stand. Targeting Syria's fragile economy represents a good first step.
Read more: http://www.nydailynews.com/opinion/time-sanction-syria-assad-feel-heat-united-states-allies-article-1.976439#ixzz1dh2sPzjX