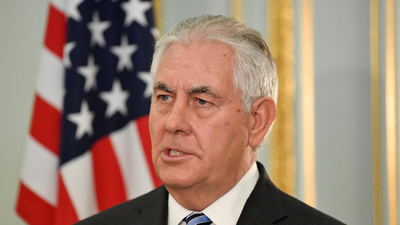 Secretary of State Rex Tillerson. (Photo: Toby Melville / AFP / Getty Images)
In the wake of the U.S. military's crushing defeat of ISIS in the heart of the Middle East, Secretary of State Rex Tillerson laid out the Trump administration's pathway forward in Syria in
prepared remarks
he delivered at Stanford University's Hoover Institute. He included a vision of America's objectives and listed the ingredients of the recipe that would make a successful Syrian soup, or as he put it, "achieve a stable, unified, and independent Syria, free of terrorist threats and free of weapons of mass destruction."
In essence, the shorter and non-diplomatic version is as follows: Syrian tyrant Bashar al-Assad is disgraceful and weak and dependent on Iran. America didn't insert itself into Syria so that Assad could re-create the same mess that spawned ISIS and the civil war. Nor did the U.S. work with allies to crush ISIS just so Iran could inherit the state. Leaving Iraq too soon allowed al-Qaeda in Iraq to morph into ISIS and become an international threat. America won't follow that script again.
It means stepping up U.S. diplomatic engagement in the Syrian conflict and notably, maintaining an American military presence that is focused on stabilization and preventing ISIS from reconstituting itself. That effort will provide the necessary conditions for a political transition away from Bashar al-Assad and the return of Syrian refugees. Iran's influence will diminish without its Syrian lapdog, Assad, in power.
The new plan combines many important lessons learned from past mistakes and attempts to find a Goldilocks approach to foreign policy. If the George W. Bush broth was too hot because he toppled Saddam Hussein in Iraq, Barack Obama's was too cold because he followed Europe into Libya and then disengaged from the region, leaving Iran ascendant and on a glide path to producing nuclear weapons.
Delicately threading a rhetorical needle between those two poles, Secretary Tillerson was careful explaining why, as he put it, "it is crucial to our national defense to maintain a military and diplomatic presence in Syria, to help bring an end to that conflict, and assist the Syrian people as they chart a course to achieve a new political future."
He framed those objectives in the wider context of U.S. counterterrorism policy and the military presence as a natural extension of diplomatic engagement and insurance against the return of ISIS. He also described three principal factors that characterize the Syrian situation today: ISIS is substantially but not completely defeated; the Assad regime still controls around half of Syria's territory and population; and finally, the strategic threats to the U.S. still exist and come not just from ISIS, al-Qaeda, and Sunni Salafist terrorist groups but from others as well.
With this third point, he finally appeared to make the pivot many Middle East observers have been waiting for by declaring "this threat I'm referring to is principally Iran."
However, after shining a light on Iran's pernicious influence in Syria, he hastened to add that America's military would not be involved in achieving that objective: "But let us be clear: The United States will maintain a military presence in Syria focused on ensuring ISIS cannot re-emerge." Instead, with a nod toward the lessons learned from Obama's premature and catastrophic 2011 departure from Iraq, he declared, "We cannot allow history to repeat itself in Syria. ISIS presently has one foot in the grave, and by maintaining an American military presence in Syria until the full and complete defeat of ISIS is achieved, it will soon have two."
Several elements would constitute an acceptable end state in Syria from the Trump administration's perspective. ISIS and al-Qaeda must suffer an enduring defeat inside Syria from which they cannot resurface or continue to pose a threat abroad. That means Syria must not again become a platform for these activities and must be free of weapons of mass destruction.
Although multiple and overlapping conflicts continue to unfold, the civil war aspect of the Assad regime against the Syrian people must be resolved through the U.N.-led political process according to U.N. Security Council Resolution 2254 in order to build a functioning, "stable, unified, independent Syria, under post-Assad leadership." Doing so should create the conditions necessary for Syrian refugees and internally displaced people to safely return.
Continued U.S. engagement in Syria is vital. America's premature disengagement would not only "restore Assad and continue his brutal treatment against his own people" but provide Iran the opportunity to further strengthen its position in Syria and continue on its path of regional domination. According to Tillerson, Iran's influence in Syria must be "diminished," denying them "their dreams of a northern arch" that poses a threat to the U.S. and its regional allies.
Secretary Tillerson outlined five steps that need to taken: Stabilization initiatives in liberated areas in Syria; de-escalating the overall conflict; counterterrorism efforts in conjunction with allies; a political process and transition that adheres to the U.N. framework (also known as the Geneva process); and "reducing and expelling malicious Iranian influence" that "depends on a democratic Syria." Accomplishing these tasks entails working with allies and partners.
Overall, the Trump administration's plan represents a sensible path forward in Syria that doesn't over-commit U.S. resources or wash America's hands prematurely with an empty declaration of victory. It also appears to finally recognize the perverse and pernicious position Iran occupies in the conflict while laying down the marker that Bashar al-Assad must go as part of a political solution. One can only hope the latter is an ironclad principle the U.S. will not trade away as the Geneva process unfolds.
At the same time, some aspects of the plan seem to be predicated on several assumptions that some would argue have already been tested and found wanting. They include the optimistic assessment that Russia can serve as a reliable negotiating partner and interlocutor because of shared Middle East interests, the conviction that Russia can be split from Iran, an inflated perception of the effectiveness of the buffer zones negotiated with Russia, an overly simplistic understanding of how Syria's reconstruction will work that will further cement Russia and Iran's position, and the confidence that an increasingly bellicose Turkey will play ball.
Perhaps most importantly is the extent to which Iran, rather than ISIS, factors into America's planning in Syria. On one hand, Tillerson's remarks indicate that the Trump administration understands the problem posed by Iran while on the other, it appears more like several carefully vetted lines appended to a speech that was otherwise crafted to focus on America's success against ISIS and devotion to preventing its reconstitution.
As the Institute for the Study of War and the American Enterprise Institute noted in their intelligence estimate and forecast back in September, "The administration has expressed that it will confront and roll back Iran's destabilizing campaign but has neither set the conditions for such a campaign nor undertaken sufficient policy action that will set conditions for such an outcome." A read of Tillerson's remarks appears to link the issue of Assad's departure with the diminishment of Iran's influence—to the extent that the latter will occur as a result of the former.
Does America's plan to push back against Iran in Syria contain other elements or conditions? Shouldn't the roll back of Iran proceed from an independent strategy based on its own merits, in a manner that would be augmented by a political process culminating in Assad's departure but not ultimately dependent upon that outcome?
"We recognize Syria presents many complexities," Tillerson explained. "Our proposed solutions will not be easy to achieve. But it is necessary to proceed in these ways for the sake of our security and that of our allies." For those as concerned by the Islamic Republic of Iran as they are with the possible re-emergence of the Islamic State, the Trump administration's assurances will have to be measured by actions on the ground rather than rhetorical flourishes or speeches.
If recent history in the Middle East has imparted one lesson it is to expect the unexpected and that the unexpected will always be worse, not better. One can only hope that the Trump administration has gamed out these scenarios beyond what is publicly available and at least has contingencies for the predictable pitfalls that are bound to arise.