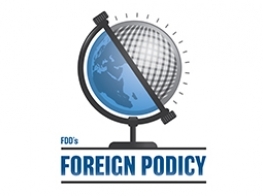 For seven long years, Syria has been engulfed in civil war. The death toll now exceeds a half million. More than five million refugees have fled abroad, and millions more are internally displaced.
The dynastic dictatorship of Bashar al-Assad almost certainly would have fallen had it not been for the intervention of the Islamic Republic of Iran, its Lebanese proxy, Hezbollah, various Iranian-controlled Shia militias, and the Russian military.
Lately, Tehran also has been building a military machine in Syria aimed at Israel. And Israel is responding.
To examine how these conflicts are likely to evolve, FDD president and Foreign Podicy host Clifford D. May is joined by FDD Research Fellow and Levant expert Tony Badran, Security Studies Group Senior Fellow Matthew RJ Brodsky, and FDD Senior Vice President for Research Jonathan Schanzer.