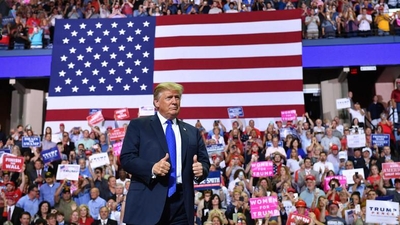 President Trump at a "Make America Great Again" rally in Mississippi on October 2, 2018. (Photo: AFP)
It's not too late to save at least some of Syria, and it seems the Trump team is taking the lead – a lead that should have been taken years ago.
But with so many internal and external actors involved in the Syrian swamp, it's often difficult to gauge how any form of progress relates to America's wider objectives in the Middle East. Many critics argue that there is no strategy and no clear objectives, yet quite the opposite is true.
The Trump administration has finally found a formula to compete and win in a game of three-dimensional chess in Syria, without sinking the U.S. in the kind of quicksand reminiscent of the experience in Iraq.
There was no boisterous policy rollout as one might expect from a president whose Twitter volume is permanently set to 11. The administration simply added the word, "enduring," to characterize the nature of the defeat the U.S. is trying to achieve against ISIS.
In diplomatic parlance, that means ensuring the terrorist group doesn't reconstitute itself after it is defeated. The other important addition is a reinvigorated American effort to help force an Iranian withdrawal from the country. It's fragile, but its working.
The expanded U.S. objective does not necessitate an increase in troop levels or a new financial burden. Instead, it relies on utilizing the ample leverage already in America's hands and under its feet.
After all, some 2,000 U.S. troops and their Kurdish partners in the Syrian Democratic Forces (SDF) are currently standing on 30 percent of Syria's overall territory where 95 percent of Syria's oil and gas fields are located.
Staying put provides America with enhanced military, financial, and geopolitical leverage. On the military side, it constitutes a major roadblock along the land corridors Iran has dreamed about securing for decades as part of its plan to form a Persian Crescent from Tehran to the Mediterranean Sea.
By dint of geography, the continuing focus on ISIS in eastern Syria also disrupts Iran's logistical lines and helps prevent the transport and stockpiling of its advanced weaponry. On the financial side, it dries up the hydrocarbon revenue stream that Bashar al-Assad and his partners in Moscow and Tehran are counting on to rescue their depressed economies.
The administration's decision not to withdraw prematurely already paid dividends in the form of increased geopolitical influence. For example, America's Kurdish allies have reportedly stopped trading with the Syrian regime, which provided Assad limited access to oil in the northeast.
'Bloodbath' in Idlib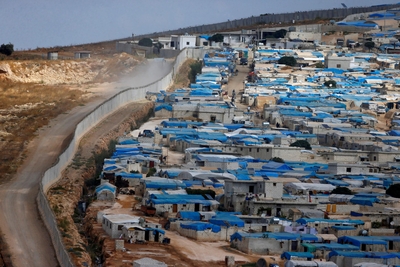 A wall along the border between Turkey and Syria in the Syrian town of Atimah, Idlib province, on October 10, 2017. (Photo: Reuters)
The recent change in U.S. messaging also helped stave off
"a humanitarian nightmare"
and "bloodbath" in Idlib, to use the words of UN Secretary General Antonio Guterres. It did so by abandoning the narrow definition of America's opposition to Assad's use of chemical weapons in favor of a stronger stance in which President Trump
warned against any "slaughter"
in Syria.
U.S. Ambassador to the UN Nikki Haley reiterated this shift at the Security Council, where she announced: "We consider any assault on Idlib to be a dangerous escalation." The U.S. stance is both clear and comprehensive. Taken together, this messaging – that the U.S. has resumed its leadership role, was staying to finish the job, and had interests of its own that must be respected – was backed up by active diplomacy with Turkey's prickly president.
Putin hopes to ultimately pry Turkey out of NATO's orbit and Erdogan is staunchly opposed to the U.S. alliance with the Kurds. But the issue of Idlib was bound to cause friction in the temporary Russian-Iranian alliance with Turkey, where the latter already has boots on the ground and is invested in maintaining stability. With Washington backing Turkey's position on Idlib, Bashar and his Russian and Iranian allies had to put their planned offensive on hold, at least for now.
More problematic for Putin is that he is counting on this alliance to present a united front as it forms the basis for his Astana process. It is a Russian-led effort designed to maintain the same Syrian power structure with Assad at the helm. Its success, however, depends on the perception that it is the only game in town.
It also establishes the basis for Assad and Putin's latest charade in which they portray Syria as stable and open for investment, humanitarian assistance, and reconstruction financing from international donors, which they will use to enrich themselves and their loyalists.
During the Obama years, America's ship of state was uniformly paddling towards a nuclear deal with Iran, which meant treating Syria as one of Tehran's "equities." Russia was easily able to undermine the UN-led peace track known as the Geneva process because the Obama administration was convinced that it presented an obstacle to keeping Tehran at the table.
Having finally abandoned the nuclear agreement that tethered U.S. policy to the Iranian regime, Washington is breathing new life into the Geneva track, which jeopardizes Russian and Iranian achievements and presents Turkey with a clear choice.
In fact, it could cast long shadows of doubt over Assad's future as well. As i24News reports, the U.S. created a small group to deal with Syrian issues that includes the UK, France, Germany, Jordan, and Egypt. They submitted a statement of principles to UN Special Envoy, Staffan di Mistura, that states there will be "no international reconstruction assistance in Syrian government held areas absent a credible political process."
The policy goals at the heart of this American-led process not only pave the way for a democratically elected Syrian government that includes all Syrians, but also creates a post of prime minister "with strengthened authorities" that doesn't depend on Assad's approval.
Moreover, there are several parameters aimed at severing Syria's "ties with the Iranian regime," pursuing and prosecuting "war criminals," and finally emptying Syria of weapons of mass destruction. In other words, it is designed to counter Russia's ambitions in Syria, widen the fissures in its alliance, while putting the squeeze on Iran.
These early results that are an outcome of the administration's new Syria team at the National Security Council and the State Department provide a foundation to build upon. It also serves as a timely reminder to keep a few guideposts front and center on the passage forward: The U.S. can accomplish a lot internationally when it uses all of the tools in the diplomatic toolkit and it can do so without overextending itself militarily or financially.
Equally important is a recognition that without U.S. leadership – especially in the Middle East – nefarious actors fill the void and America's allies embark on shortsighted and discordant foreign policy adventures that are often difficult to untangle.
The strategic shift in America's military and diplomatic posture – without "owning" Syria according to the Pottery Barn rules – is only beginning to pay off and there is a long road ahead. Sure, no one gets rich betting on peace breaking out among Middle East states.
Of course, Assad and his backers in Moscow and Tehran are bound to present new challenges inside and outside of Syria. But utilizing the ample leverage already at America's disposal, working with allies, and actively undermining adversaries, provides a pathway towards a Syrian endgame that works in America's favor and that of the Syrian people.