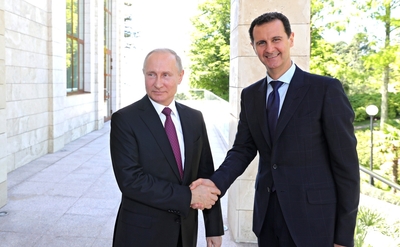 Russian President Vladimir Putin (R) meets President of Syria Bashar Al-Assad (L) in Sochi, Russia on May 17, 2018. (Photo: Kremlin Press Office / Anadolu Agency / Getty Image)
Russia has suffered a number of strategic setbacks in its attempt to cement its role as Syria's arbiter. The United States, with its Syrian allies–recently joined by Turkey, even if temporarily–have tossed a monkey wrench into Putin's and Assad's plan to create the illusion of peace and stability in Syria. That is because they are preventing nearly half of the county's territory from returning to the regime's control.
In light of that, it's worth analyzing how Russia has responded since a Syrian air defense system mistakenly shot down a Russian intelligence plane. Unwilling to fix the blame on the gross incompetence of the Syrian and Russian ground operators, Moscow accused Israel of recklessly endangering the lives of Russian airmen and responded by delivering several of its more advanced S-300 air defense batteries to Syria. If handed over to Assad's forces, it would breach a longstanding Israeli red line over the provision of what it calls "game-changing" weapons systems to either Assad, Iranian forces or its Lebanese branch, Hezbollah.
But Russian Foreign Minister Sergei Lavrov made some curious comments regarding the Israeli-held Golan Heights, territory it has held since the 1967 war. Speaking to reporters of Russia's TASS News Agency, Lavrov said "the status of the Golan Heights is determined by the resolutions of the UN Security Council." Any change, he argued, "would be a direct violation of these resolutions."
It is tempting to consider the statement as the final spasm emanating from Russia's tantrum over the shot-down plane. But it could hint at a strategy to come in which Russia tries to damage America's alliances. More on that later.
Russia was counting on a swift U.S. withdrawal from northeast Syria to cash in on the oil and natural gas fields, 90 percent of which lies beneath American and Kurdish boots. It was also expecting Turkey to pull out of the Idlib pocket, which would allow Team Assad to declare an end to the civil war after another brutal regime-sponsored offensive. Ultimately, it would permit Putin to send the signal that Syria, under Assad, is open for business once again. This would open the spigot for billions of dollars in international aid and reconstruction financing to pour in that would line Assad's and Putin's pockets first and foremost.
Lately, however, the last leg of the Russian marathon in Syria hasn't unfolded according to plan, at least from Moscow's perspective. To begin with, the U.S. and its Syrian allies don't appear to be leaving anytime soon and Turkey is maintaining its positions in Idlib. The Trump administration also created a small group of nations from Europe and the Middle East to work through the UN and reinvigorate the languishing Geneva peace process. Among other key principles where they've formed a consensus, there will be "no international reconstruction assistance in Syrian-government-held areas absent a credible political process that leads unalterably to constitutional reform and UN-supervised elections."
That rules out the Russian-led Astana process, which is designed to paper-over reforms, preserve the same power structure, and maintain Assad's rule. Moreover, the Russian effort depends on Turkey's participation, which appears less likely as a result of recent U.S. diplomatic efforts. So having recently reached the third anniversary of Russia's military engagement in Syria, Putin hoped to be holding something more than Iran's hand and a bag of mounting debt.
Of course, Russia tried to prevent the diminishment of its position but it failed to work out those understandings during the mid-summer summit between Presidents Trump and Putin in Helsinki. So from mid-July onward, Moscow pretended it already had a deal with the Trump administration and all that remained to iron out were some minor details. To that end, a few days after the meeting, Russia sent a letter through military channels suggesting the U.S. and Russia form a joint group to finance infrastructure renovation in Syria.
According to Reuters, a U.S. government memo that discussed the Russian proposal noted that the offer would specifically deal with regime-held areas of the country where Assad "lacks the equipment, fuel, other material, and funding needed to rebuild the country in order to accept refugee returns." That explains the icy reception the idea received in Washington as it ran contrary to its own efforts with the Syria Small Group. Even more telling, the memo described the Russian campaign to push the initiative in other capitals where they falsely claimed the proposal was a fait accompli following the Trump-Putin meeting.
This gets back to Russia's statement about the Golan Heights. Few latched on to the phrase during the Helsinki summit press conference where Putin said he will take steps "toward creating a lasting peace in compliance with the respective resolutions of security council, for instance the resolution 338." This brief reference to UN .Security Council Resolution 338 caught the ears of careful observers because it is a resolution from 1973 that revives the land-for-peace formula, originally laid out in Resolution 242 following the 1967 war during which Israel captured the Golan Heights.
With the Golan theme already established and the Russian effort to fast-forward to an advantageous endgame in Syria, the question becomes, is Putin hoping to play peacemaker between Syria and Israel based on the principle of land-for-peace? Or, asked another way, is Moscow declaring it will not guarantee Iran's withdrawal from Syria absent a peace agreement that returns the Golan Heights to Assad–the way a mafia boss can't guarantee one's safety if its goons aren't paid off?
One thing is certain: Putin won't take Russia's enhanced regional position for granted after spending the better part of this millennium trying to reclaim past Russian glory. After all, Moscow was marginalized after the Soviet Union collapsed. It spent the 1990s on the sidelines watching the Syrian-Israeli peace process proceed under American auspices. If that effort succeeded, it would have pulled the last Arab state out of Russia's orbit.
Today, Russia is under American and Israeli pressure to push Iran out of Syria, even as it depends on its proxies to safeguard Assad and its own assets. Putin's longstanding relationship with the Syrian leader is also becoming a strategic liability, preventing international financing for Syria's reconstruction that would enrich Russia's oligarchs.
From Putin's perspective, a panacea for his problems would be a Syrian-Israeli peace process led by Russia. Such an effort would simultaneously damage America's regional alliances, fully normalize Assad as Syria's leader, and cement Russia's regional position. Better yet, the process itself would achieve these objectives, regardless of its political outcome.
"You can't make war without Egypt and you can't make peace without Syria," was the old adage coined by former Secretary of State Henry Kissinger decades ago. Russia is seeking to clarify that any peaceful solution in Syria must protect, if not enhance, its position. History has shown it will be willing to offer that which it cannot guarantee – like Iran's removal from Syria – in order to move the process forward.